Apple Introduces the 5K iMac with a Retina Display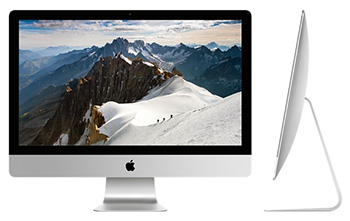 Today, Apple announced the "iMac with Retina 5K Display." The desktop version of my December 2011 prediction has finally become a reality.
It's been more than two years since Apple introduced the Retina MacBook Pro, but the company finally released its first desktop display with a high-resolution "retina display." Perhaps 4K wasn't enough to reach "retina" status, so Apple decided to create a 27" display with over 5,000 (5K) horizontal lines of resolution.
The resolution of the new iMac is 5120 x 2880 pixels, to be exact. That is 14,745,600 total pixels. In other words, the screen can display a 14 megapixel full screen image with no scaling. Wow. I suppose many photographers and video editors are already lining up to buy this impressive new machine, which started shipping today.
The display of the new iMac is awesome. I suppose it will be even more awesome when I see it in real life. However, it puts me in a difficult position since I was waiting for a standalone display that I could use with a new Mac Pro. For some reason (probably based on sales volume), Apple decided to put their new display technology into the 27" iMac rather than a new Thunderbolt monitor.
I just finished watching today's keynote and there was no mention of a 5K Thunderbolt display. I can't imagine I'm the only one surprised. All the high-end video editors and photographers who use Mac Pros were probably disappointed with today's news. If they want to use a 4K+ display, they have to either use a third party monitor (like the Dell UP3214Q) or buy a 5K iMac and use "target display mode," which is kind of ridiculous.
Hopefully, we'll see a Thunderbolt 5K display from Apple in the near future. For now, I imagine there are a lot of creative professionals struggling with the same decision as me.