How can I tell if my modem has a built-in wireless router?
Answer: In the early days of the Internet, most homes had a single computer with Internet access. It wasn't long, however, until home users began connecting multiple computers to their Internet access point using a router. Today, since most homes include multiple wireless devices, many people now have wireless routers that provide Internet access to all connected devices.
Many home users still use a separate wireless router (which broadcasts a Wi-Fi signal) and connect the router to their DSL or cable modems. However, several ISPs now provide their customers with modems that include a wireless router, eliminating the need for a second device. So how do you know if your modem includes wireless capabilities?
There are a few easy ways to check if your modem has a built-in router.
Ethernet ports – If your modem includes Ethernet ports on the back, it also doubles as a router, though this does not guarantee it supports Wi-Fi.
Wi-Fi logo – Look for the Wi-Fi logo somewhere on the router. All Wi-Fi routers should include the "Wi-Fi" logo or at least the word "Wi-Fi" somewhere on the device.
Wi-Fi light – Most wireless devices include an LED that indicates Wi-Fi is turned on and functioning. This may or may not be next to the Wi-Fi logo.
Wireless password – Many modem/wireless router devices provided by ISPs include a default wireless password that is printed on the back or bottom of the router. The password might be labeled "WPA Key," "WPA2," "wireless," or something similar.
Below is a photo that shows the back of a standard Comcast Xfinity cable modem with a built-in wireless router.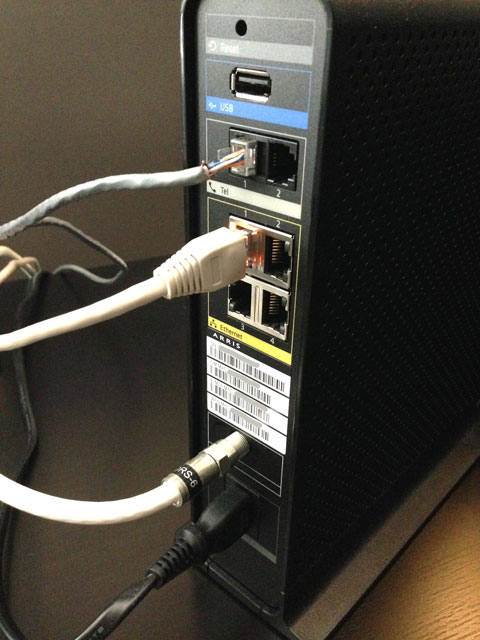 If your modem includes any of the wireless features in the list above, it has a built-in wireless router. However, in some cases, you may need to manually configure or activate the wireless feature. If this is the case, the manual provided with the device or your ISP's support website are good places to start.
If your modem does not include the features listed above, you will most likely need to buy a separate wireless router and connect it to your modem. However, it may be worth contacting your ISP to ask them if they can provide you will a new modem/router free of charge. Many ISPs now offer the combo devices as standard equipment, so it's worth checking before you buy a second device.