Internet Explorer 9 Review
Last month, I wrote a brief review of Firefox 4. At the end of the review, I mentioned I was looking forward to the release of Microsoft's Internet Explorer 9, since it would support the latest HTML 5 and CSS 3 standards. Well, it turns out IE9 had actually been released 10 days earlier on March 14. Oops.
I am a bit embarrassed that I missed the release date of such a major Web browser. However, my chagrin is tempered by the fact many others missed the release date as well. In fact, when I searched for the IE9 release date, I found several other users asking when the final version would be released or if it was already available for download. After downloading several beta versions and multiple release candidates, I guess I wasn't the only one confused. It turns out I already had the final version of IE9 installed on my Windows computer when I wrote the Firefox 4 review.
So Internet Explorer 9.0 has been officially released. How does it stack up to the other browsers, like Firefox, Chrome, and Safari? Based on my experience so far, I have mixed feelings. One major difference is that user interface has been simplified compared to IE8. I like the new clean look, but I think the appearance has been a bit oversimplified. For example, the menu bar is hidden by default and most browser options must be accessed by clicking one of three icons on the right side of the window. Additionally, the title bar no longer displays the title of the current webpage. :-o I don't know why Microsoft would remove this information, since I believe it helps identify the content of the window.
Below is a screenshot of IE9's blank title bar.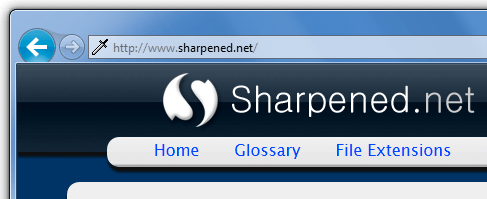 At first, I was frustrated that there was no search bar in the upper-right corner of IE9's browser window. However, I soon realized the address bar now doubles as the Web address field and a search bar. I guess I can live with that. I also noticed IE9 now offers a full screen view feature, which is pretty cool. However, I needed to enable the menu bar and search through the View options to find this feature. Fortunately, the F11 key can also be used to toggle between the regular and full screen views.
From my experience so far, Internet Explorer 9's performance is on par with other modern browsers. It may even perform better when loading some graphics intensive pages, thanks to its GPU graphics acceleration. The new JavaScript engine appears to be faster than the IE8 version as well. More importantly, IE9 loads HTML 5 pages correctly and supports nearly all CSS 3 styles. Even if Microsoft didn't make a single other improvement over IE8, these updates alone would make the switch worthwhile.
With the release of Internet Explorer 9, all current browsers now support HTML 5 and CSS 3. This is great news for Web developers, including myself. The bad news is that not everyone uses the latest browsers. In fact, according to my website analytics, over 30% of Sharpened.net visitors still use IE8 or earlier. What's worse is that IE9 is only available for Windows 7 and Windows Vista, meaning Windows XP users cannot switch to IE9 even if they want to. If Microsoft would just add support for HTML 5 tags in IE8, it would be much easier to develop HTML 5 websites for all browsers. However, with the way things are now, it looks like Web developers will need to include backwards compatibility scripts in our sites for many years to come.
PC.net Rating