Review: BackBlaze Online Backup for Mac

After a disappointing experience with Carbonite, I had to search for another online backup solution. I browsed the websites of nearly a dozen services and decided BackBlaze was the best option.
I chose BackBlaze is because it was the only online backup service besides Carbonite that met my three required criteria: 1) Works on Mac OS X, 2) provides more than 300GB of online storage, and 3) is reasonably priced. Plus, BackBlaze offered something else that really got my attention — unthrottled backup. Too good to be true? I had to find out.
I signed up for BackBlaze on Black Friday and got a discount of exactly $0.00. However, it didn't matter because the service is so cheap. A full year of unlimited backup is only $50. I downloaded the Mac software and it installed a System Preference pane, just like Carbonite.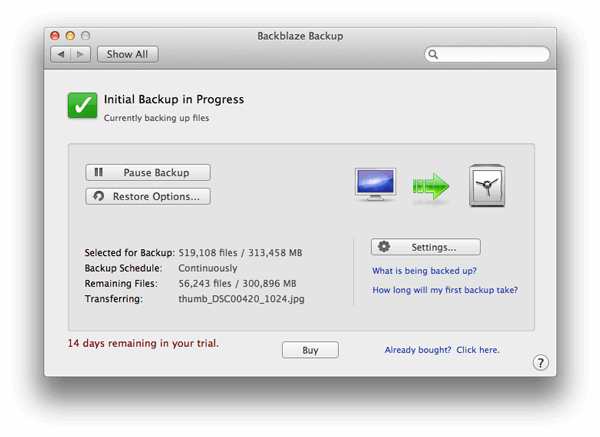 The System Preference pane has a user-friendly interface and provides an easy way to adjust your backup settings. For example, you can select which volume to back up and what folders and file types to exclude. You can also manage the backup schedule and set a private encryption key, both of which are advanced features that I was happy to see in a such an inexpensive backup solution. But what really made me happy was the Performance tab, shown below: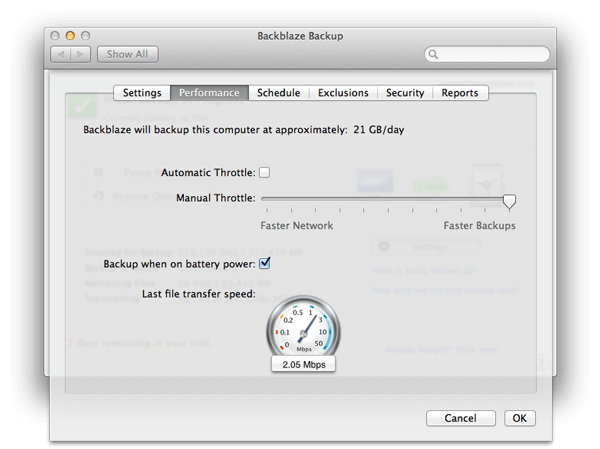 I turned off the automatic throttle and let the upload transfer at maximum speed. No more squeezing the valve on my bandwidth, like Carbonite did. I was able to upload my data at over 2 Mbps all day and all night. I sent roughly 318 GB of data to BackBlaze in two weeks, which is pretty impressive.
Of course, any backup is only as good as its ability to restore files. So I made sure I could restore a few files from BackBlaze's server, during and after the initial backup. I clicked the Restore Options… button in the System Preferences window and found that the only way to restore files is through BackBlaze's website. This was disappointing, as I was hoping I could restore files directly from the System Preference pane.
Fortunately, the Web interface is pretty easy to use and provides a nice hierarchical view of your directories. You simply check the files you want to download and click Continue with Restore. BackBlaze creates a .ZIP archive of the selected files and emails you a link to it. You can then click the link to download an archive of your files, with the directory structure intact. I'm not thrilled with BackBlaze's restore process, but it works. It's rather inefficient for restoring individual files, but it makes sense for major restores, since a compressed archive is much faster to download than thousands of individual files.
I've only used BackBlaze for about a month now, but so far I am very happy with it. I wish I could provide feedback on BackBlaze's customer service, but I have had no reason to contact them yet, which is a good thing. If you are looking for unlimited, unthrottled online backup at a reasonable price, look no further than BackBlaze.
PC.net Rating