Mini Review: Apple TV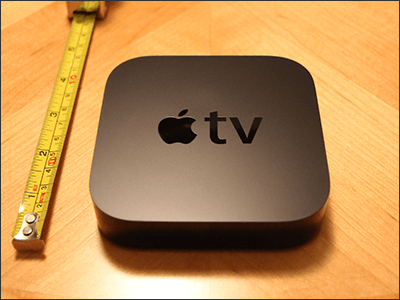 I expected Apple to release a new Apple TV at the beginning of 2013. I thought I'd wait for the new model, since the last version was released in March 2012. I waited through several product announcements, including the recent ones in September and October, but alas, there was no new Apple TV. I finally got tired of waiting and bought one last week for $99. It was the best $99 I've spent in a long time.
I don't watch a lot of TV, I don't use Netflix or Hulu, and I don't buy or rent a lot of movies. So why do I like Apple TV so much? One word: AirPlay. The AirPlay feature allows me to stream audio and video from my Mac, iPad, and iPhone to my TV. I can now give presentations from my Mac, show pictures or play music from my iPhone, and play videos from my iPad directly on my television. My favorite use is watching live and recorded StarCraft 2 videos on my big screen Pioneer Elite TV. It's awesome.
Apple TV is exceptionally easy to use and works just the way you want it to. All you have to do is select "AirPlay" on your iPad or iPhone (in iOS 7) and you can mirror the screen of your iDevice on your TV. It automatically plays back the sound as well. If you are using a Mac, you can simply select the AirPlay icon in the menu bar and choose "Apple TV" to use your television as a second display. You can mirror your Mac's screen or even extend your desktop to your TV and use your television as a secondary display.
But that's not all. Apple TV automatically detects the resolution of your TV (thanks to the HDMI connection) and automatically selects the correct output resolution. It scales the display as necessary, with stunning clarity. When you play a video from your iDevice, Apple TV automatically fills the screen with the video and – this is super important – it automatically buffers the video so that it will play smoothly on your TV in realtime. It does the same thing for audio as well.
Apple TV is the quintessential Apple product. It is simple, compact (only 4x4 inches), and shockingly easy to use. If I didn't browse through the device settings for a few minutes when I first set it up, I could have been streaming video from my iPad to my TV within one minute of opening the box. I probably could have done it in 30 seconds if I didn't have to crawl behind my TV to connect the HDMI cable (which Apple sells separately for the reasonable price of $19.99).
Since this is a mini review, I'm not going to cover the rest of the Apple TV's features, but there are many more. You can rent movies and TV shows, play some shows for free, listen to iTunes Radio, and play songs you've purchased from the iTunes Store. The interface is simplistic, but highly functional. Apple TV does what it's meant to do and does it well. While this model has been out for almost two years, it remains a bargain for a hundred bucks.
PC.net Rating