Panamax M5400-PM Review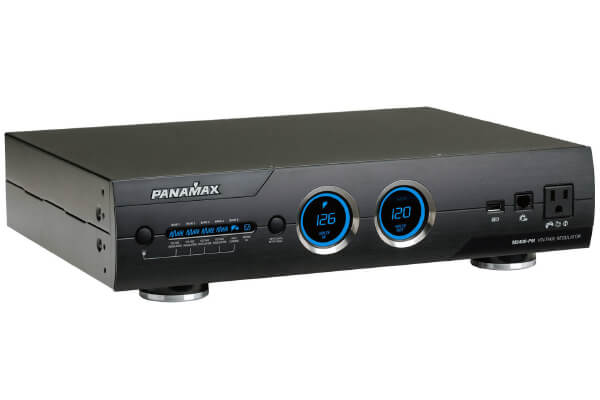 "Improves Picture and Sound."
Those seemingly hyperbolic words are printed on the box of the Panamax M5400-PM power conditioner. I understand a surge protector can protect electronics. It makes sense that a power conditioner can prolong the life of electronic devices. But improve audio and video quality? Come on.
Here's thing crazy thing... it actually does.
After unboxing my new Panamax M5400-PM, I spent more than an hour disconnecting all my home theater devices from my old Monster Power line conditioner and connecting them to my new Panamax box. If you're wondering why it took so long, let's just say there were a lot of hard to reach cables in a cramped and very dark space. I do not envy people who configure home theater systems for a living.
The back of the M5400-PM includes 10 clearly-labeled outlets, separated into five isolated banks. Bank 5 is a high-current bank, which is a nice feature, but since there is only one high-current bank, I had to plug my only two high-current devices into the same bank, which I was hoping to avoid. So my Denon AVR-X4500H receiver and my Bowers and Wilkins DB4S subwoofer are both plugged into bank 5.
Also why is bank 5 on the left? And why are all the receptacles upside down?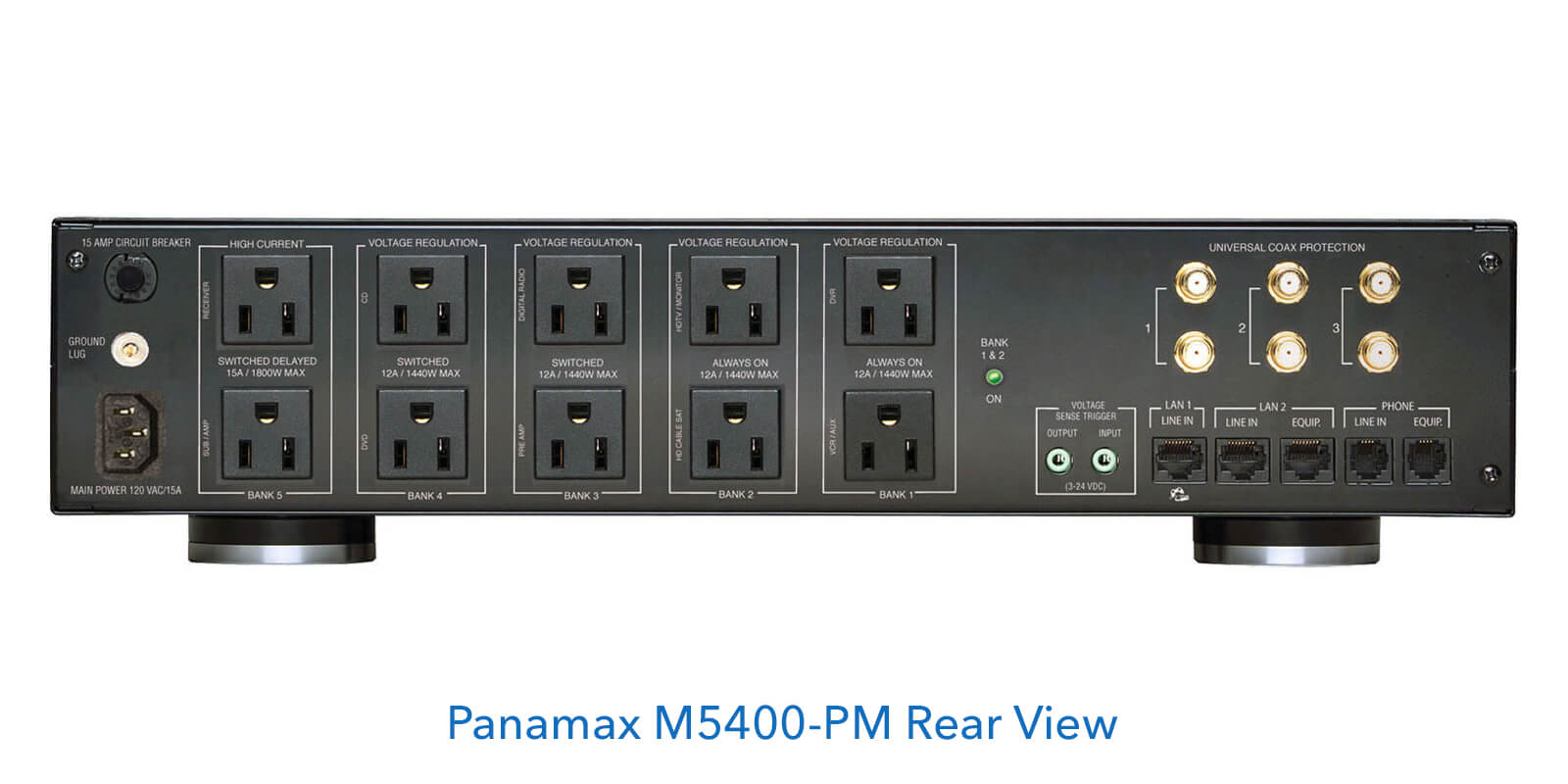 When I finally plugged in the power conditioner to my wall outlet, everything started up like a charm. The first thing I noticed was the sequenced startup, which delays the powering on of individual outlet banks. This feature prevents a surge of power from hitting all the connected devices at once. After about five seconds, the M5400-PM sent power to my receiver and subwoofer, which confirmed I had connected the devices correctly.
The second thing I noticed was the bright lights on the front. This thing can seriously light up your entire room if you leave the brightness setting on high. I was shocked to discover there is no way to turn all the lights off. What's also annoying is that even the lowest brightness setting still shows the backlit "Voltage In" and "Voltage Out" text — but without displaying the voltage. Who thought this made sense? And then as soon as you bump the brightness setting up one notch, the blue rings appear around the voltage, making the power conditioner visible from a mile away.
I understand that many people place their power conditioner in an AV box with frosted glass. But for those of us without such fancy hardware, the lights are seriously distracting. The brightness settings should be:
Off (completely)
Dim with no voltage information (or voltage text)
Dim with voltage information, without circles lit up
Dim with voltage information, with circles lit up
Medium brightness
Full brightness
Instead, the brightness options are:
Bright
Too bright
Way too bright
Bright enough to light up the entire room
Blinding
I don't understand how things like this get through quality control.
But let's talk about performance. As soon as I turned on my TV, I heard the difference. The sound was more clear, and I could hear more separation between frequencies. It was like I had EQ'd or recalibrated my home theater, but all I did was plug my equipment into a new power conditioner. Amazing.
I was especially surprised because I was so skeptical before trying out this Panamax device. But my skepticism further validates the improvement in audio quality I heard. It's almost like I have new speakers. I wish I could say the device improved the video as well, but since my Sony A9F is wall-mounted, I have it plugged into a compact WattBox line conditioner.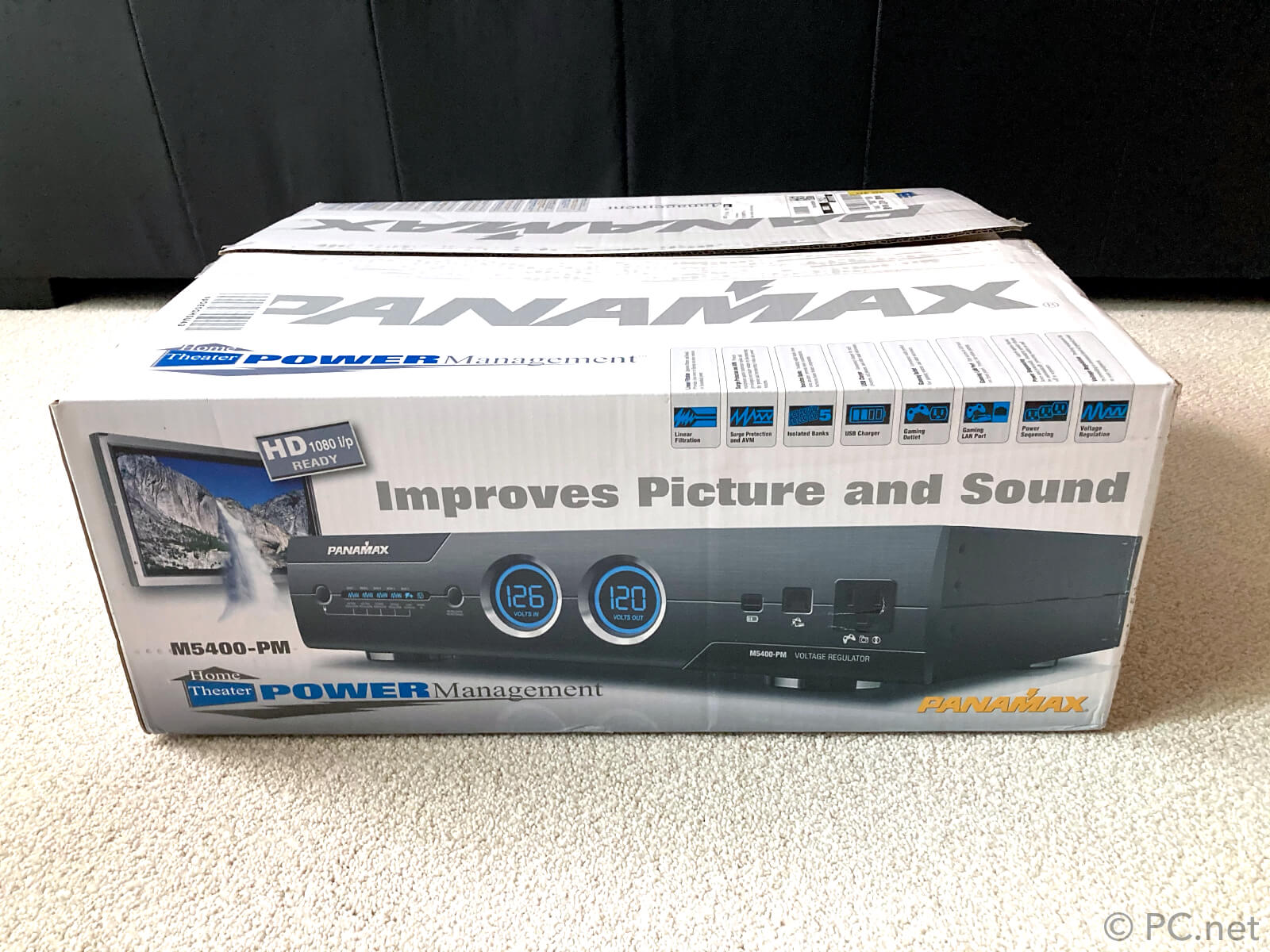 On a less-positive, I can't tell if the voltage regulation feature of the M5400-PM works (the main difference between this model and the M5300-PM). Whenever "voltage in" changes from 118 to 122, the "voltage out" value changes with it. I thought "voltage out" would stay at 120v, but I guess not. I emailed Panamax support over a week ago and still have not received a response. Maybe there is a threshold before the voltage regulator kicks in, but I'm not sure because the one-page manual included with the power conditioner didn't mention it. If anyone knows how this works, I welcome your comments.
The device also emits a faint low-frequency buzz, which is nearly inaudible most of the time, but seems to kick up when the voltage regulator is working harder. For example, when I turn on my AVR, the Panamax buzzes a little louder for a few seconds. I am especially sensitive to buzzes and background noises, so I was concerned this would be an issue. But I'm happy to say the "hum" from the voltage regulator has not been noticeable enough to bother me, even in a quiet room when all the devices are off.
Pros
Noticeably improves audio quality
5 isolated power banks
Well-constructed
Cons
Front lights cannot be turned off
Voltage regulation may produce hum
Nonexistent customer support
Summary
The Panamax M5400-PM does what it says it will do — it improves audio quality. It probably enhances video as well; I just couldn't test it directly. The question is whether or not this gadget is worth a retail price of over $800. If you don't have low/high voltage issues, the M5300-PM might be a better option, and you won't have to worry about any buzz or hum.
I also compared the Panamax M5400-PM vs the Furman Elite-15 PFi power conditioner. I was going to use the Furman instead, but the bright blue light on the front of the Elite-15 PFi was not dimmable at all (what is the deal with this?) and I noticed better sound quality with the Panamax. So I plan to keep using the M5400-PM with the lights on the dimmest setting.
With a price tag higher than a PlayStation 5, the Panamax M5400-PM is not for everyone. But if you have a high-end audio system and want the best sound quality possible, it's a necessary addition.
PC.net Rating