Netgear RAX200 (AX11000) Router Review
The Netgear RAX200 router is among the most elite routers available for home networks. It has the latest Wi-Fi 6 technology for wireless connections and five Ethernet ports for wired devices. It is configurable using a web interface and you can manage it with a mobile app. On top of all that, it looks cool.
But does it live up to the hype?
Looks aren't everything when it comes to computer equipment, but I would argue that solid design adds value to any device that sits in plain view all day. The RAX200's sleek aesthetic appears to receive inspiration from the recent Star Wars trilogy. It looks like it might just take off and fly away. Fortunately, in the 30 days I used the router, it remained firmly planted on my desk. The stark black design is not for everyone or every space, but I like it.
Wireless Peformance
The most notable spec in the RAX200's long list of accolades is Wi-Fi 6 support. The latest Wi-Fi 6 technology (also known as 802.11ax) can provide wireless speeds up to 4x faster than 802.11ac. It also has three bands (two 5 GHz and one 2.4 GHz) with four streams each, for a total of 12 separate wireless streams. Theoretically, this is great if you have lots of devices connecting to the router at one time.
▶ The "AX11000" label on the router is misleading to put it nicely. It combines a maximum speed of 4800 Mbps for both 5 GHz connections and a maximum speed of 1200 Mbps for the 2.4 GHz connection, which totals 10,800 Mbps. First of all, that is less than 11,000 Mbps. Secondly, wireless devices are unlikely to reach speeds even close to the 4800 Mbps max. And thirdly, if multiple devices are connected and max out the bandwidth, there will be so much interference, the speed will decrease even further.
So I wasn't expecting 11,000 Mbps, or even close. But did I get blazing fast wireless speeds with the RAX200? No.
Not only were my speeds disappointing, they were often slower than the seven-year-old Apple router the RAX200 replaced. I tested my new iPhone SE (which supports Wi-Fi 6) next to my old iPhone 7, both about two feet away from the router. The results were shockingly bad. In the photo below, my iPhone 7 is on the left and the iPhone SE is on the right.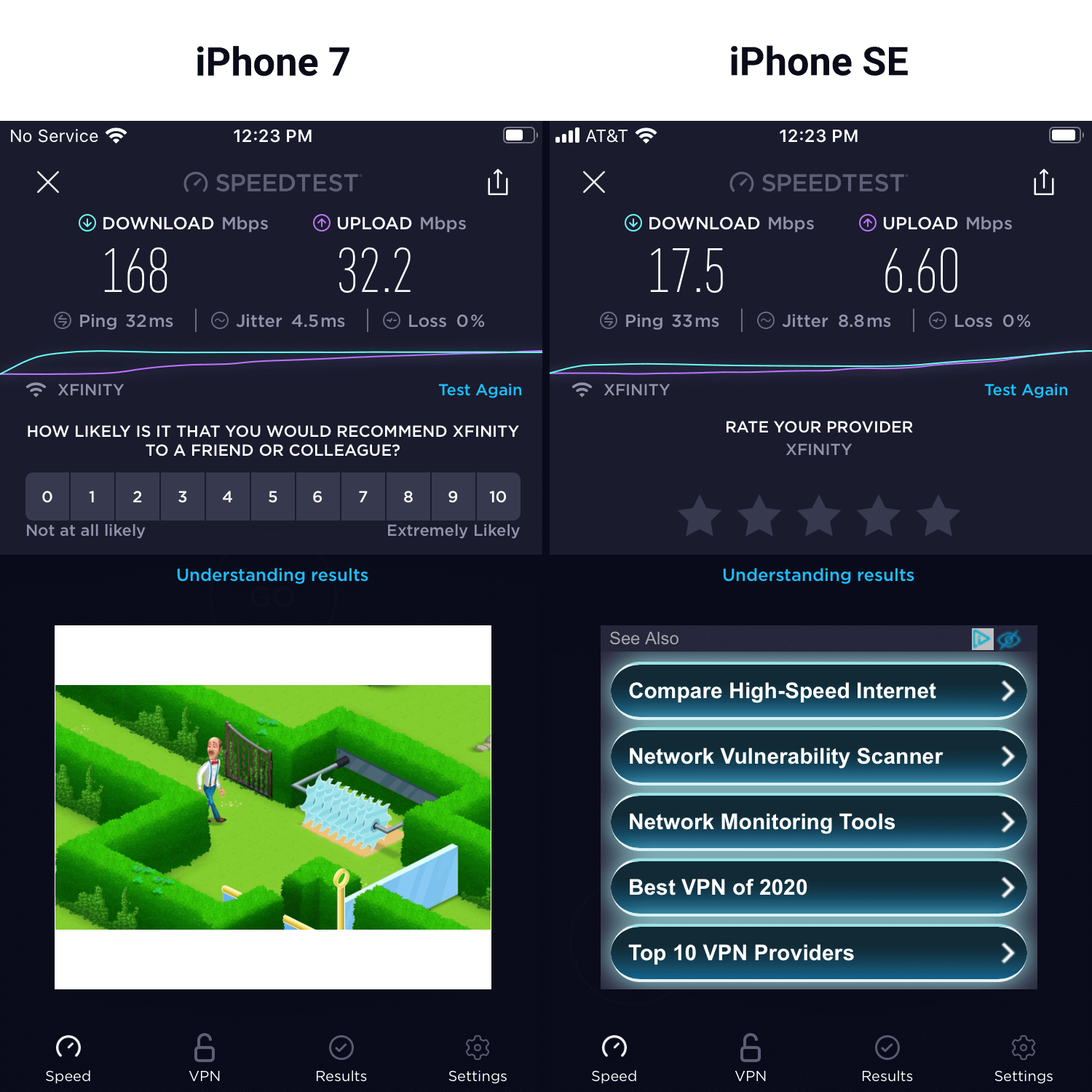 17.5 Mbps downstream is horrible for a 1 Gbps Internet connection and 6.6 Mbps upstream is a joke. Fortunately, after restarting the router a few times and trying different locations, I was able to get wireless download speeds above 400 Mbps. But in most tests, the data transfer rate did not exceed 250 Mbps.
Inconsistent wireless speeds plagued me for the entire month I used the RAX200. Sometimes the wireless connection would drop altogether. And several devices that should have easily been in range of one of the 5 GHz bands connected at 2.4 GHz using the "Smart Connect" feature. So that reduced the potential wireless speeds right off the bat. I expected much more from a new top-of-the-line Netgear router.
Wired Performance
The RAX200 has four Gigabit Ethernet ports and one 2.5 Gbps port. I connected the 2.5 Gbps port to my iMac Pro using a Cat 6a Ethernet cable. Immediately, I got the same 940 Mbps download speed and 40 Mbps upload speed I had been getting with my Comcast rental device. But I wanted more — I was hoping for Multi-Gig Internet speeds over 1 Gbps.
One of the reasons I bought the RAX200 was so I could achieve download speeds over 1 Gbps. Using the web interface, I activated Ethernet port aggregation on my Netgear CM1150V modem and on the RAX200. It was a somewhat complicated, but relatively smooth process.
▶ For detailed instructions, view the Help Article about how to set up Multi-Gig Internet.
After activating Ethernet port aggregation and connecting the router and modem with two Ethernet cables, I tested my Internet speed again. I leaped for joy when I saw download speeds over 1,000 Mbps for the first time. The fastest tests came in at just over 1,200 Mbps.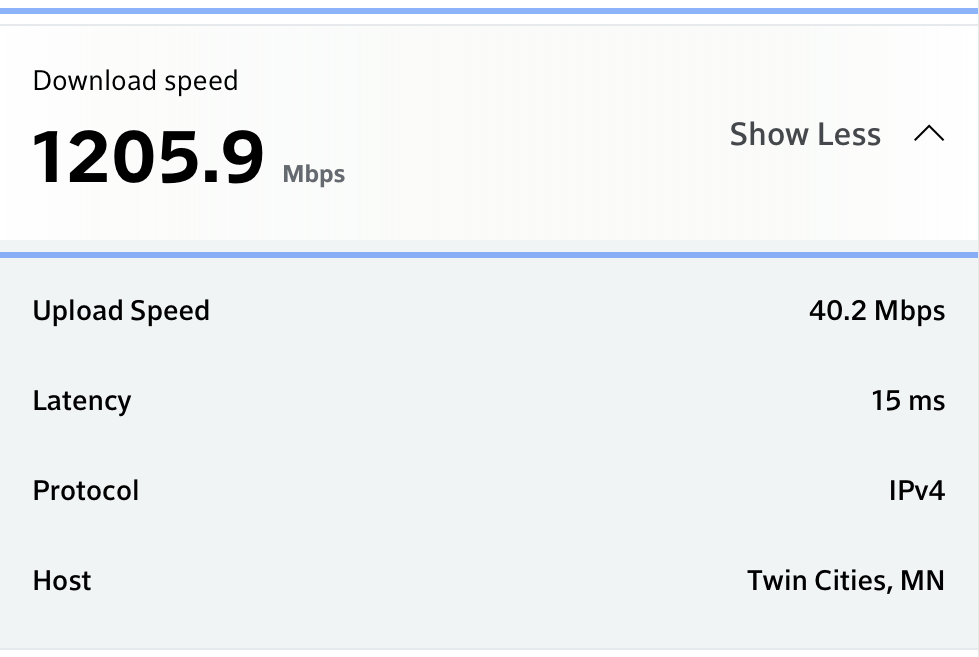 But my enthusiasm was short-lived. The next day I noticed Netflix was loading slowly on my TV, websites were sluggish on my phone, and webpages even loaded slowly on my iMac Pro. I ran another speed test and got this.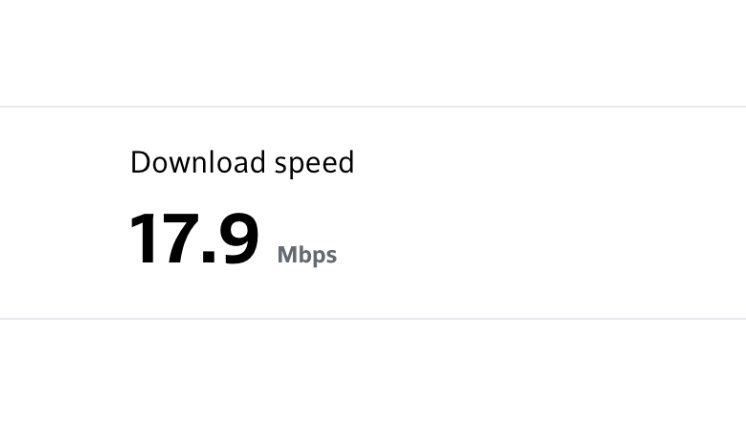 The download speed dropped to less than 1/50 of the day before. I restarted the router and my speeds were back above 1,100 Mbps. But the next day, same thing. The download speed was under 20 Mbps. This kept happening, so I contacted Netgear support via email and they had me make several changes to the router settings. The changes didn't help. I had multiple phone calls with Netgear support, including one two-hour phone call where they had me run about 20 speed tests and offered no solution other than to downgrade the firmware. I finally tried that, and my maximum wired speed declined to 480 Mbps. Two days later, it was back under 20 Mbps.
I thought maybe I got a defective unit, but after reading the Netgear forums, it turns there are many other RAX200 users with similar issues. Most users have the CM1200 modem, so the problem is with the router and not the modem. When downgrading the firmware did not fix the issue, that was the end. Time for a different router.
Pros
Cool design
Controllable with mobile app
Wi-Fi 6 support
2.5 Gbps Ethernet port
Cons
Unreliable wireless connections
Inconsistent wired speeds
Weak 5 GHz signal on both bands
Slow overall speeds
Conclusion
The Netgear RAX200 is a promising router with all the latest technology you could want. The mobile app provides simple control of the router and connected devices. Unfortunately, it is horribly unreliable and does not provide speeds even close to the advertised maximum. There have to be better options for $500.
PC.net Rating