Corsair K100 Keyboard Review (for Mac)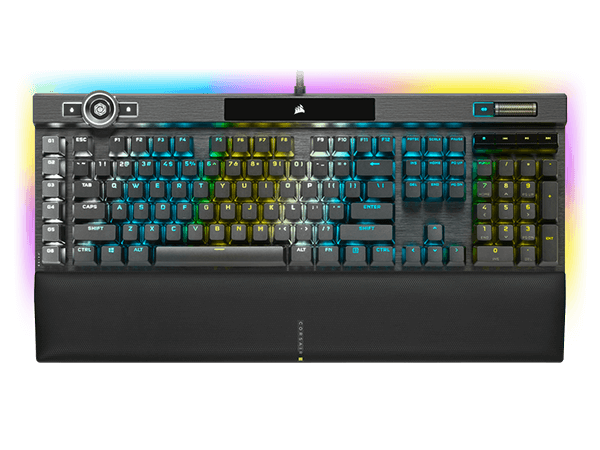 My Razer Anasi keyboard had a good run. When Razer stopped updating their Mac drivers a few years ago, I knew it was only a matter of time before my keyboard and mice would stop working. Last year's macOS Big Sur update was the nail in the coffin.
After nearly ten years of using the same keyboard, I faced the dreaded task of looking for a new one. I say "dreaded" because 1) the perfect keyboard doesn't exist (every single one I've tried has annoying issues) and 2) the options for Mac users are minimal.
Mac Gaming Keyboard Alternatives
Razer intentionally left Mac users in the dust, so buying another Razer keyboard was not an option. I looked at gaming keyboards from HyperX, Roccat, SteelSeries, Fnatic, Logitech, and Corsair. HyperX and Roccat don't offer Mac support. The only SteelSeries keyboards that are Mac-compatible don't have macro keys, which are necessary for my workflow.
I first tried the Fnatic STREAK keyboard, but I couldn't get the macOS driver to work. After several emails back and forth with Fnatic support, they finally admitted their Mac software had unresolved issues and recommended I return the keyboard. Next, I tried the Logitech G815. The keys felt too light and the macOS driver was a joke. The lighting options were surprisingly limited and I couldn't even assign custom actions to the macro keys. I returned the Logitech keyboard as well.
And that brings us to the Corsair K100, which I've been using for over eight months. That fact alone implies it's a decent keyboard. Is it perfect? Of course not, because the perfect keyboard does not exist. But how close to perfection is the K100? Let's find out.
K100 Hardware
The Corsair K100 is the most well-built keyboard I've ever used. The heavy construction keeps it firmly in one place, and the brushed aluminum frame feels indestructible. I chose the model with the Corsair OPX key switches over the Cherry MX Speed version, hoping they would be quieter. The good news is the OPX keys are responsive and easy to type on for long periods at a time. The bad news is the keys are louder than I hoped they would be, which is a considerable drawback. I really wish Corsair would offer a silent model for people like me who have frequent Zoom meetings and phone calls at work. Even when I try to type quietly, people on the other end complain about the noise.
Backlighting is where the Corsair K100 really shines (pun intended). It has the best LED lighting of any backlit keyboard I've used. The key-specific illumination is super clean and the individual lights don't bleed all over the place as they do on most backlit keyboards. I also like the down-firing lights along the sides of the keyboard, which provide a subtle glowing effect. If there is a better-looking keyboard than the K100, I haven't seen it.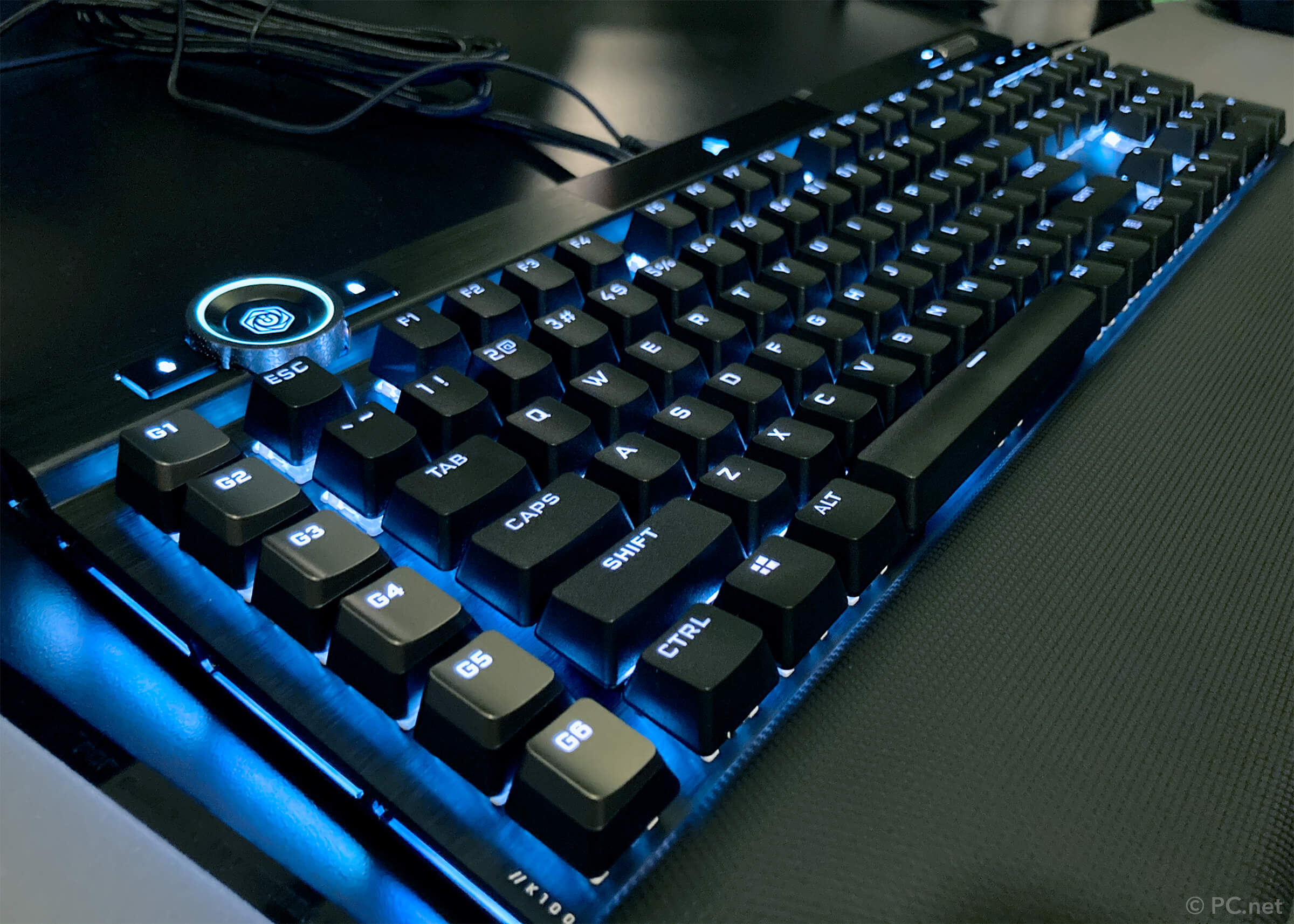 Corsair iCUE Software
Unlike Razer, Corsair has not abandoned Mac users. In fact, Corsair's iCUE for macOS software supports nearly all Corsair devices, including the K100. It allows you to assign custom commands to any key (including "launch application") and provides a wide variety of lighting effects.
While iCUE works on macOS, I wouldn't say it works well. There is a substantial lag (3-5 seconds) each time I assign an action to a key, and the interface isn't very intuitive. The software is reasonably stable, but iCUE randomly crashes every few weeks or stops recognizing one of my devices, forcing me to quit and relaunch iCUE. For some reason, just launching iCUE can take up to a minute on my iMac Pro, which I don't understand.
▶ I learned through trial and error that you should close the iCUE window, not quit the app, when you are not using the software. Quitting the app deactivates the driver and automatically switches all your Corsair devices to "hardware mode."
iCUE comes with a bunch of lighting options, most of which I don't think anyone uses. Just because it's possible to make the colors on a keyboard roll like waves on the ocean doesn't mean it's a desirable effect. Most people prefer to alternate between static colors, which is fortunately easy to do with iCUE's "Instant Lighting" option. I wish I could use the K100 Control Wheel in the upper-left corner of the keyboard to scroll through different lighting effects, but the current version of iCUE doesn't allow it. So I only use the overhyped Control Wheel to change the backlight brightness.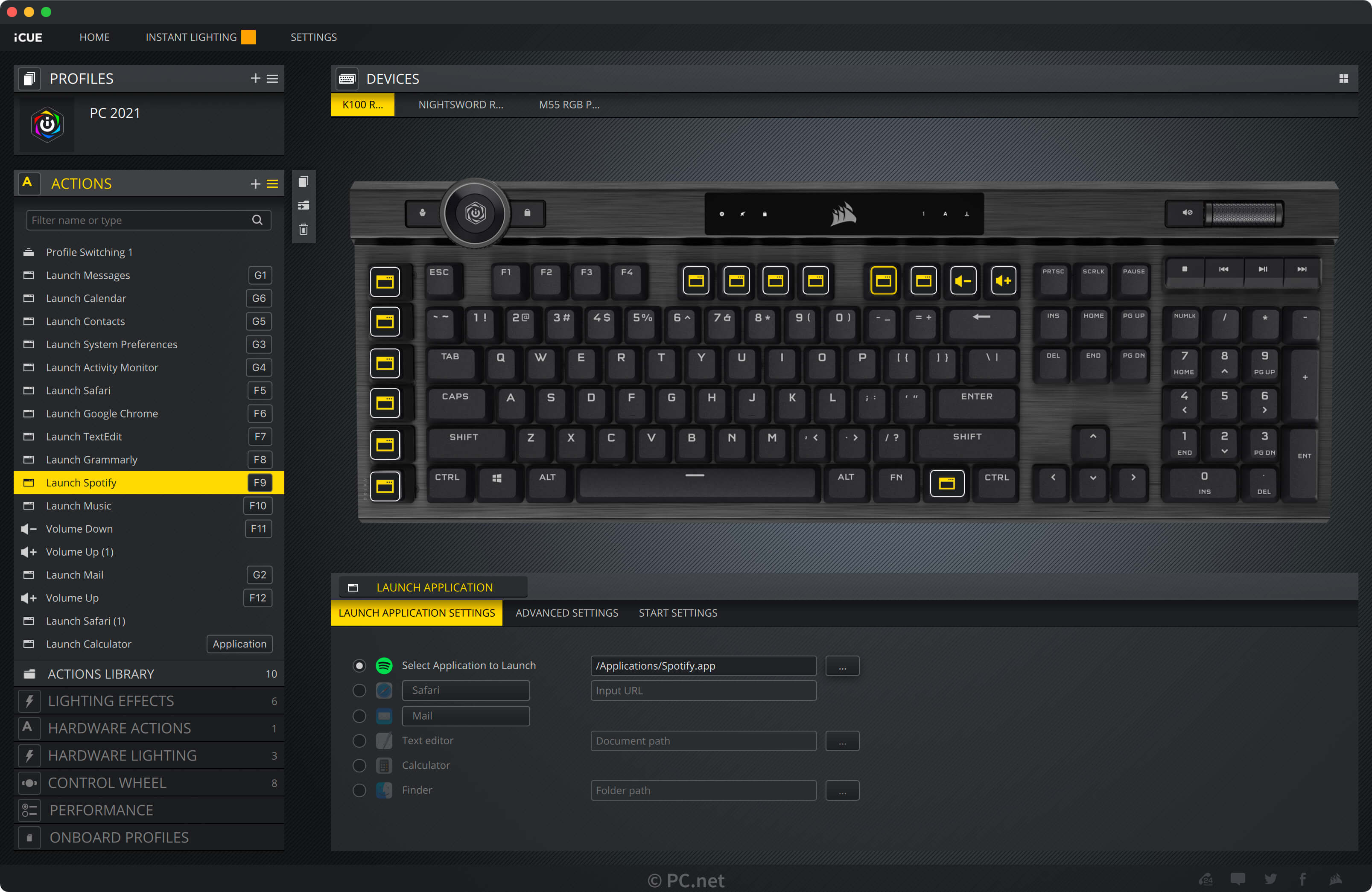 Pros
well-built, sturdy construction
excellent backlighting
comfortable, responsive keys
macOS support
Cons
OPX key switches are loud
macOS driver is buggy
Control Wheel lacks functionality
included wrist rest is useless
Summary
The Corsair K100 is a rock-solid keyboard, worth the $200+ price tag. After eight months of daily use, it still feels brand new. The "cool factor" of the pristine backlighting has not worn off.
Still, the K100 is not perfect. The keys are too loud (please make a silent version, Corsair!), the sloped wrist rest is useless (I removed it and bought my own), and the iCUE software is mediocre at best.
I'm still using the K100 eight months later because it's the best keyboard I've found that supports macOS. But my search for the perfect keyboard continues.
PC.net Rating